MAGICAL YOGA / MAGICAL ISLAND / YOGA HOLIDAY ON PATMOS ISLAND , GREECE
Blogeintrag vom 7. Mai 2016 um 14:17 Uhr von anastasiayoga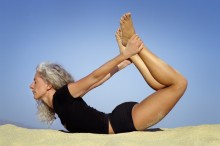 photo credit: www.yannisakon.com
Hatha-Yoga Retreats On The Island Of Patmos, Dodecanese / Greece
Join us to one of the most magical spots on Greece and create an unforgettable holiday!
For the past 9 years we have been retreated to the beautiful island of Patmos to experience energetic adventures while transforming the summer days into vital living and pure joy!
Surrounded by sunlight and Aegean bliss here we will take time to renew and rejuvenate, to unwind from daily life, to breath and feel free, to be seduced by the greek hospitality and enjoy the spirit of the hot summer nights!
A week- long retreat on such a nurturing environment will be a unique present that we are offering to ourselves!
Those retreats are open to all people with or without previous yoga experience!
Week I 05 - 10 JULY 2016
Week II 23 - 28 AUGUST 2016
The Seminar
Our yoga practice will start on TUESDAY afternoon and will end up on SUNDAY morning.
There will be two classes offered a day for about 1 1/2 hours each. The yoga classes will be held outdoors on a wonderful terrace with a superb view onto the sea. During the week we will be exploring hatha-yoga in the style of Eva Ruchpaul, Paris / France.
Beginners are most welcome.
The Island
Patmos is one of the most beautiful islands of the Dodecanese, a group of twelve islands stretching along the south corner of the Aegean Archipelago.It is a holy island frequently named " The Jerusalem of the Aegean".
With its whitewashed cubic houses, the charming lace-like coastline and the pebbly and sandy beaches with crystal clear waters, Patmos will definitely reward with its beauty, those who will decide to spend their Yoga holiday there!
For more info/ pricing/ schedule and registration please visit: