The Labyrinth - Easter Yoga Retreat in Italy
16. Januar 2023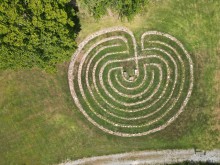 The Labyrinth - Easter Yoga Retreat in Italy | 05. - 10. April 2023 in Grempoli, Toskana
With this five-day-retreat, we will celebrate the auspicious time of Easter and the ancient spiritual practice of Labyrinth. Together we will investigate and work with different shapes and types of labyrinths through drawing, painting, tracing, building and walking them as a spiritual practice, supported and held within the pristine, magical and nurturing environment of Grempoli in Springtime.
Each day will comprise of a balanced yogic lifestyle routine, with morning asana and pranayama practice, yoga nidra, meditation and deliciously healthy organic meals. The retreat will begin on the new moon and will give space and time for contemplation, reflection, sharing and possibly discovering new insights and resolves.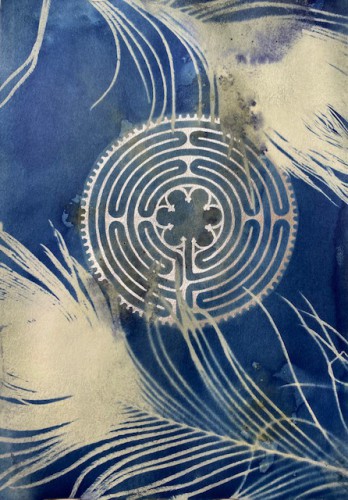 A Sacred tool for transformation
Working with a labyrinth can create a direct and intuitive connection to our deepest nature. We can begin the journey intuitively as we enter into a labyrinth with a question or a resolve and if we are open during this inner journey, we may receive new insights on our path. We can interact with this sacred space within and use it as a tool for supporting us to hear our own inner voice and rediscover our own true Self. Labyrinths can help us with times of transition – endings and beginnings, connection with the rhythm of each in and out breath, unite our inner world with the outer and be used as an act of pilgrimage.
Easter – time for renewal
There are a few particular occasions of the year which are said to be especially favourable to walk and engage with labyrinths. They are connected to the cosmic bodies – with the moon phases, the phases of the planet Venus, or with the equinoxes. The time of Easter is perhaps the most auspicious one – held on the first Sunday after the first full moon following the spring equinox, it symbolises the resurrection of Christ, spiritual rebirth, renewal and the ascent of the human towards the divine.
The Retreat Includes
- A full and varied programme from 7 am to 9 pm.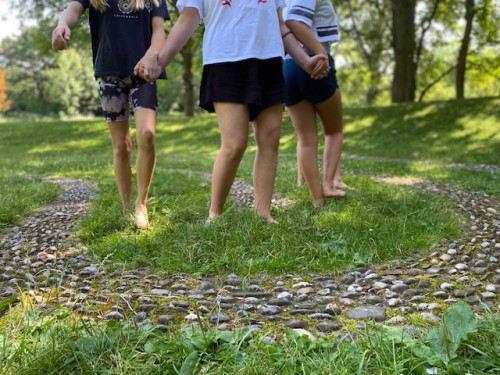 - A daily 90-minute asana, pranayama, and meditation class
- Yoga nidra sessions
- Karma yoga and periods of silence (mauna)
- Drawing and painting of labyrinths as a practice and a sacred act
- Using different materials to craft your labyrinth
- Building and walking a labyrinth
- Evening sessions on the terrace (weather permitting)
No previous knowledge or experience of drawing and painting is necessary.
Language
: English
Cost of Retreat
EUR 590 in a double room / EUR 690 in a single-room
(Only 3 single rooms available)
The price includes all tuition and classes, 5 nights of comfortable accommodation, 3 healthy & delicious organic meals each day, local collection and drop off from the train station.
Mi 5. - Do 10. April 2023
The Labyrinth
Easter-Yoga-Retreat

with
Nadeshda
(Antarshuddhi)
Stürzebecher
in
Grempoli - Retreat Center
Toskana, Italien
Details and contact 
Nadeshda
(Antarshuddhi)
Stürzebecher
https://bhavani.at/workshops-retreats/
Tel: 0699/117 56 117
om@bhavani.at
____ Hintergrund____
Labyrinth - bei diesem Wort denkt fast jeder zuerst an einen Irrgarten mit Sackgassen, Kreuzungen und Verzweigungen, in dem man sich leicht verlaufen kann. Ein klassisches Labyrinth dagegen sieht ganz anders aus: Nur einen einzigen, unverzweigten Weg gibt es darin, und der führt sicher ans Ziel und wieder heraus.